Presented by:
In-Home Therapy Services LLC
640 Walnut Avenue, Carlsbad, CA 92008
Phone: 888-253-6077
Fax: 888-773-3272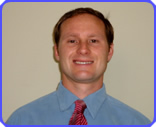 Jim Prussack, MPT, MMT is a licensed physical therapist in the state of California. He received his Master of Physical Therapy Degree from Emory University, Atlanta, GA in 1998. He continued his education in 2001, receiving a Master of Manual Therapy Degree from Curtin University, Perth, Australia. Jim founded In-Home Therapy Services in 2005 and has been providing outpatient therapy services to seniors in the home environment since that time. He started his practice out of frustration in being able to effectively treat the senior population in a fast paced outpatient clinic setting. He has since realized the home environment is the most rewarding setting for both the geriatric patient and the therapist.
Jim has expanded his Medicare Part B practice in San Diego to include over 15 physical, speech, and occupational therapists. He has also focused his time on successfully assisting many therapists throughout the United States in starting and running their own in-home therapy practices. Jim is an active member of the APTA and Section on Geriatrics.
Seminar Objectives
The Start Up Process
Transitioning to working for yourself
Benefits of being your own boss
What is needed to start your business
Time involved for start-up phase
Costs of starting an In-Home practice
In-Home Business Structure
Sole Proprietor vs. Corporation
Tax ID numbers needed
Business name and registration
Understanding Medicare Part B
Rules and regulations
855 Application forms needed to start
ICD-9 and CPT Coding
Billing 101 for Medicare Part B
PT/OT Cap and Modifiers
Medicare Reimbursement Rates
Medicare Compliance
Documentation & Billing forms
Paper vs. Digital Documentation
Necessary items on documentation forms
Documenting appropriately for Medicare
Patient Intake and Billing forms
Sample paper forms
Marketing your In-Home Practice
The best referral sources for patients
How to market yourself as a PT
Setting up a marketing plan for your area
Secrets to building a successful practice
Growing Your In-Home Practice
Adding other disciplines - OT and Speech
Best ways to pay your staff?
Most effective use of time as a PT owner
Outsourcing services vs. doing it yourself
Who Should Attend?
Licensed Physical, Occupational, and Speech Therapists interested in learning how to start a Medicare Part B Practice or those already operating a practice but would like to learn more about the ins and outs of in-home therapy from a business perspective. PTA's and COTA's are not eligible to become In-Home practice owners. In the private practice arena, assistants need direct supervision under Medicare and do not have their own Medicare provider numbers.
Seminar Handouts
All participants shall receive written materials detailing the seminar information and power point slides, as well as some sample forms.
Continuing Education Credits
This seminar does not offer upfront continuing education credits. If you are interested, please check with your local state therapy board for eligibility requirements.
Seminar Content
This seminar is geared towards a business perspective of owning and operating an in-home therapy clinic. The course materials and presentation do not focus on clinical and therapeutic information in regards to geriatric rehabilitation. There are numerous valuable courses available in regards to clinical geriatrics.
---
Cancellation Policy

All cancellations to be recieved in writing 2 weeks prior to seminar with a 10% cancellation fee. No refunds for cancellations less than 2 weeks prior to the course. In-Home Therapy Services has the right to cancel a course if circumstances arise, and if so, all paid participants will receive a 100% refund.